Our Mission & Our Vision
Our mission is to provide quality services that are enjoyable, personable, and protect the interests of our clients. For buyers and sellers, Lionheart will work with you to determine your needs with personal and financial goals in mind. Our team can do a comprehensive search to find that perfect property or create a specific marketing plan for the sale of your current home.
Our vision is to negotiate terms that are fair to all by ensuring current information is up-to-date while maintaining confidentiality through professionalism. For a smooth transaction, our brokers provide expert skills to optimize your investments while communicating with attention paid to detail. Furthermore, we are able to share our network of reliable mortgage brokers, real estate attorneys, home inspectors, and movers.
Click here to search our multiple listing service or contact us for a complete market analysis to know what your house is worth.
Testimonials
From a Selling Client
"Richard Haake and Maria Fuhrman were very pleasant to work with – professional, enthusiastic, and knowledgeable.  We appreciated their efforts selling our house and treating us fairly and respectfully."
– D. Radavich
From a Daughter about her and her Father's experience with Lionheart and Senior Services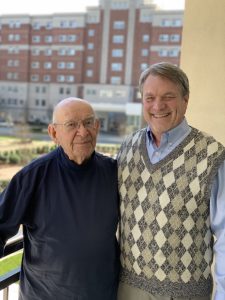 "Richard and Maria were the best!  For my father's move to Aldersgate we worked with Lynda Styles of Senior Services and she recommended Richard and Maria – she could not have made a better choice for us to partner with!  Both myself and my father were immediately comfortable!  Both Richard and Maria were there at every step of the way managing all aspects of the process from end to end.  They are very professional, knowledgeable and extremely committed to making the experience as easy as possible.  Maria went above and beyond and even assisted in packing up and unpacking for his move!  A tremendous weight off our shoulders! Highly recommend Richard, Maria, and Lynda with Senior Services!"
– Bruce and Tricia